Throughout the Oral History component of the project, the Dundee Curfew Bell was mentioned several times. While Dundee has extensive archival records surrounding the Anglo-Zulu and Anglo- Boer Wars, we discovered there were few existing records of the towns more recent history. A majority of younger citizens knew nothing of the notorious bell that wrung nightly from the corner of Wilson and Victoria Street.
With no tangible signs left of the bell, we located it through our conversations with locals, some of whom could recall hiding in trees after 10 pm so as not to be caught by the roving police.
The hall at the former men's hostel, adjacent to where the boom gate into Sibongile used to stand. The boom gate was used by the Northern Natal Bantu Affairs Administration Board to control and regulate access in and out of Sibongile until the early 1980's. This was the site of our next Living Within History workshop.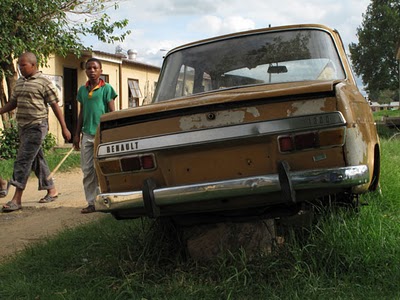 For this leg of the project we set out to unite a variety of traditional music genres. Using the hostel hall as our base, we invited three musical groups and Durban facilitators Clive Gumede, Siyanda Mwandla and Karen Van Pletsen to combine talents and develop two pieces of music: one with lyrics and the other an a capella soundscape.
The 36 participants who took part in the workshop included gospel choir (Ubuhle Bomndeni), Isicathamiya group (Ubuhle Be Sandlwana) and maskandi group (Amaphiko Amahle) while Joyce Makhathini, a resident of the hostel, provided the evening meals.
Ubuhle Be Sandlwana
The Friday session saw each group performing for one another while the Saturday and Sunday workshops saw Clive, Siyanda and Karen guide the groups through a series of musical improvisations and exercises.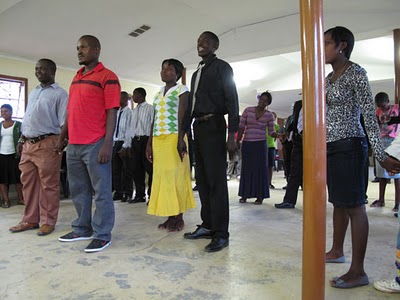 Ubuhle Bomndeni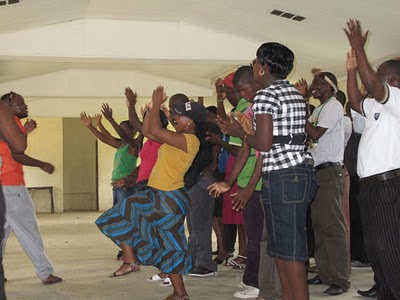 A final performance the following weekend involved two of the groups: Ubuhle Be Sandlwana and Amaphiko Amahle assembling on the pavement site where the curfew bell had wrung decades before.
At 10 pm, the groups, huddled under a street light, began to sing: an incantation (developed in the workshop process) that sounded through the deserted CBD of Dundee.
For the second performance, visiting performers Ntombikayise Gasa and Neliswa Rushualang conceived a haunting visual response to the space, which was performed at 10 pm a few evenings later.
Curfew Bell from vaughn sadie on Vimeo.