Amongst the many humorous phrases and idioms, we encountered during our time in Dundee: "Never trust a town that has more churches than bars" proved to be one of the most indelible.
Ambling through the centre of town, one is confronted by churches of just about every conceivable denomination (The NG Kerk, The New Life, Methodist and Anglican Church).
The traffic circle on Beaconsfield, Gladstone Street and Boundary Road interested us a performance space as it was situated at the centre of these sites of worship.
When the Siwela Sonke performers arrived, we proposed the circle as one of our sites and asked them to come up with a few ideas around what we could best use it for.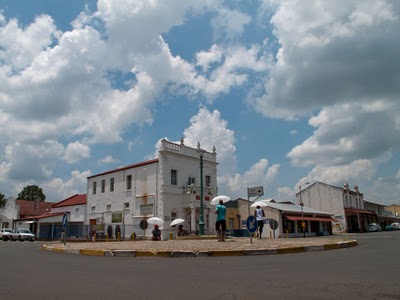 The performers proposed we use the circle as a Shembe circle and re-enact a ceremony during peak traffic hours. It was decided that the lamppost, at the circles centre, would stand in for the tree traditionally required for the ritual.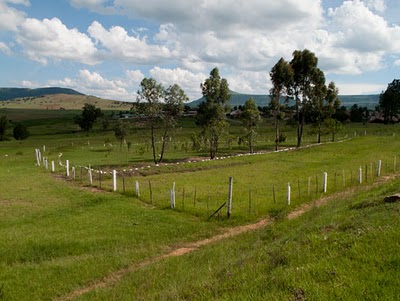 During our research, we had examined sites of worship in and around Dundee and discovered that Shembe churches (spaces demarcated by a circle of white rocks) existed on the fringes of the town and were seldom, if ever, mentioned in brochures or listings naming sites of religious congregation.
In order to draw a captive audience we moved our performance (Shembe ceremonies traditionally take place on Saturdays) to a Sunday morning when church goers would be out in full force for the 9:00 am sermon.
We placed white rocks around the circumference of the circle and the performers (dressed in traditional costume) braved a torrential downpour to perform. The event began with each worshipper making their way through the traffic, steadily following the white lines of each of the four roads.
The half-hour ceremony drew a substantial amount of attention from locals and church goers, who gathered on steps and balconies. Upon leaving Dundee we were pleased to see, that two weeks after the performance, the white rocks around the circumference of the circle remained intact.
Traffic Circle – Shembe from vaughn sadie on Vimeo.