Things have been pretty full-on since our arrival back in Dundee for what is the third and final leg of our Living Within History project. There hasn't been much time to sit down and pen weekly progress reports, so we hope the following posts give a clearer sense of what has been going down and where things are heading.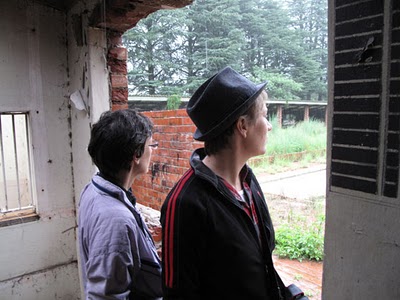 In mid- December we spent a weekend with Rike Sitas and Dorothee Kreutzfeldt. We also invited Catherine Kennedy from SAHA (The South African History Archives) to join us and advise on the oral history component of our project. The lengthy conversations and long strolls through the streets of Dundee were hugely formative and helped us to make sense of our mass of ideas.
We have settled on six places around the town to stage various re-enactments. These spaces exist largely on the periphery or "in–between" of the town. They are spaces (occasionally objects) that have either fallen into disuse, or are on the brink of being relegated to history.
We have defined the sort of History we are interested in as that of the everyday, avoiding routes and sites that lead one towards the more fabled Anglo-Zulu/Boer monuments and memorials. We have selected each of the sites after discussions and interviews with community members. Some remain visible in their foundations or facades while others exist within the folds of individual memory.
After identifying each of the sites we entered into discussion with Mark Donaldson: head of electricity at the Endumeni Municipality who sent out his team (and cherry picker) to change the street- lamp bulbs. The street light, nearest to each site we are working with, was changed from yellow 70/100 Watt high-pressure sodium bulb to an intense white 160 Watt mercury vapour bulb.
In the next few days will be posting a series of texts and images that outline our activates in each of the project spaces.
Here's hoping that the notorious January rains abate and allow us to instigate our many ideas.